"Country Wine for the Country Kind"

Bringing fruit wine to a whole new level! Making wines in a traditional country way, we're bringing wines out your grandpa's basement and into the community. We do not add water, artificial flavorings, colorings, or concentrates to any of our fruit wines, nor do we filter. These are pure wines true to the fruit on the label; these are NOT grape wines with flavoring This produces a rich, full-bodied, soulfully aged fruit wine full of flavor and aroma. Anything we don't grow, we buy from other local Georgia farms (excluding our lemon juice for our "Quittin' Time"). You gotta come have a taste!
SAF Tasting- Try five wines and keep the souvenir glass for $10
Wine Slushies, wine flights and hard cider on tap also available!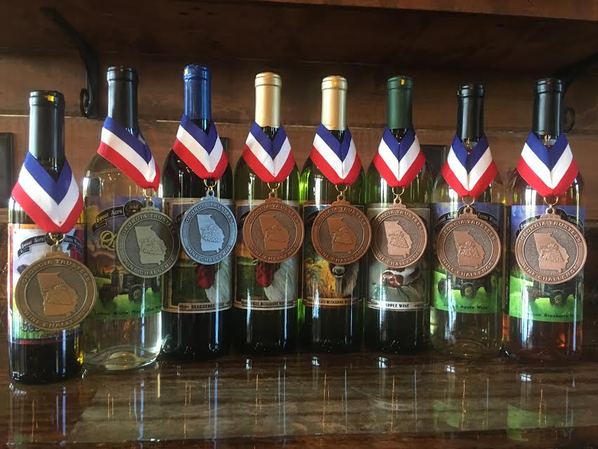 Dry Blueberry
Made from only Georgia blueberries, this unfiltered dry blueberry wine was fermented on the skins and fruit to impart as much flavor, aroma and color as possible. 12% ABV TEMPORARILY SOLD OUT

---

Dry White Muscadine
Carlos muscadines from Arlington, Georgia in its purest form. A uniquely dry white wine with a marvelous, unmistakable bouquet. 12% ABV

---
Dry Red Muscadine
Noble muscadines in this intoxicating dry red wine tantalizes the senses. Earthy, deep & even a wild, gamey characteristic. 2015 vintage. You'll be pleasantly surprised! 12% ABV

---

Semisweet Red Muscadine
Noble red muscadines from south Georgia. A rich red wine with just a touch of sweetness. Beautiful aroma. Perfect for the red wine lover. Not too foxy. 13% ABV

---
Semisweet White Muscadine
​Pure, undiluted perfection in a bottle. 100% Carlos white muscadine wine. Just a touch of sweetness to highlight the natural flavor of the muscadines. 12% ABV

---

Sweet Nectarine
Is it a peach? A plum? It's white nectarines from just down the road at Jaemor Farms. This full flavored, sweet wine is one you won't find anywhere else. Nectar is in the title. 10% ABV
TEMPORARILY SOLD OUT


---

Sweet Apple
Made from a late season blend of Blue Ridge, Georgia apples. Fragrant, apple-y aroma with a crisp flavor that brings you right into the orchard. 12% ABV TEMPORARILY SOLD OUT

---

"Sweet Ass Peach"
The name says it all! Just like biting in to a sweet Georgia peach. Bright and flavorful. Made from the best Jaemor Farms' peaches. 12% ABV

---

Sweet Blueberry
One of our best sellers, and for good reason! Made from blueberries from Alma, GA, this sweet red wine is fruity, delicious and full of antioxidants. 12% ABV

---

"Sweet Ass Strawberry"
Local strawberries make the best wine! This sweet strawberry wine has unbelievable aroma and incredible taste. Pairs well with chocolate! 10% ABV TEMPORARILY SOLD OUT

---

"Sweet Ass Blackberry"
Sweet, tart and full of flavor, better than Grandma used to make! A classic country wine brought to a whole new level. 12% ABV TEMPORARILY SOLD OUT

---

"Quittin' Time"
Light-bodied, easy-drinking lemon wines made with a variety of real local fruit. Goes well with salty snacks and casual dinners. Pour over ice with a slice of lemon for the perfect summer wine. Drinks like lemonade, but contains 10% ABV

Available flavors: Lemon Peach, Lemon Blackberry, Lemon Blueberry, Lemon White Muscadine, Lemon Apple




---
"Bramblin' Sam"
The sweetest of all of our wines, "Bramblin' Sam" is almost as sweet as the dog it's named after! Blackberry wine with a kiss of apple, this diverse, full-flavored wine is sure to please the crowd. Blackberries straight from our farm! 12% ABV
TEMPORARILY SOLD OUT


---

Coming Soon:
Dry Blackberry
Meads
Rum Barrel Aged Peach
Multiple flavors of Quittin' Time
Sangria

---

"Bullheaded"
Bourbon Barrel Aged Apple Wine
A crisp, slightly sweet apple wine aged in Georgia Bourbon barrels for four months. Gold medal winner! Won "Best Fortified Wine" in the state! 15% ABV

---

All the beautiful paintings on our labels are by Judy Crumley, Lindsey's mom!